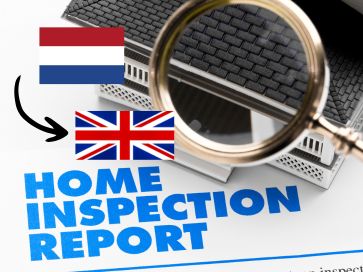 When buying or selling a property, ensuring its technical or structural condition is crucial. An essential step in this process is a comprehensive structural inspection, also known as a "technical inspection". This inspection provides a thorough assessment of the structural condition of the property, focusing on essential elements such as the foundation, skeleton and overall stability. After performing an inspection in The Netherlands, a report is prepared with all the findings, often it is also possible to receive the report of the technical review in English. This is undoubtedly important for international clients.
> Read more about a technical inspection
What is a technical inspection?
A technical inspection is an in-depth examination carried out by experienced inspectors to assess the structural soundness of a property. This involves careful assessments of the foundation, walls, roof, piping, electrical systems and more. Often, the primary focus is on the foundation, as it is the cornerstone of any building's stability.
> Read more about a technical inspection of the foundation of a house
Technical inspection with English report
A notable feature of our building inspection service is the provision of a comprehensive English report. This detailed document presents the findings of the inspection in a clear and easy-to-understand manner for international clients. The report not only highlights potential problems but also includes insights into the overall condition of the property. This transparency ensures that both buyers and sellers have a complete understanding of the structural condition of the property, which helps them make informed decisions.
Benefits of a technical inspection
Early Problem Detection: Early identification of structural problems can prevent costly long-term repairs.
Bargaining power: Buyers equipped with an English-language inspection report can confidently conduct price negotiations based on concrete facts.
Strengthened Selling Points: Sellers can leverage a positive inspection report to attract buyers and facilitate smoother transactions.
Long-term Investment: A solid structural foundation ensures the sustainability of your investment and offers peace of mind.
Professional Expertise: Our inspectors are experienced professionals with a deep understanding of building construction and structural integrity. They use advanced techniques and tools to accurately assess properties, ensuring a thorough evaluation.
A technical inspection with an English report goes beyond language barriers and provides an in-depth understanding of a property's structural condition. Whether you are buying or selling, this inspection ensures transparency, informed decision-making and a solid foundation for your real estate ventures.
> Read more about the reasons for a technical inspection
Compare technical inspectors
Before you pick a technical inspector, it is helpful to compare several inspectors. In this way, you are more certain about what to expect, the costs and about the benefits.
> Compare technical inspectors here
Selling a house is not possible without a report on the condition of the house. This is called a technical…
Read more
💡 Need help with finding a suitable technical inspector?
We provide you with free help and all the advice you need to find the best inspector.