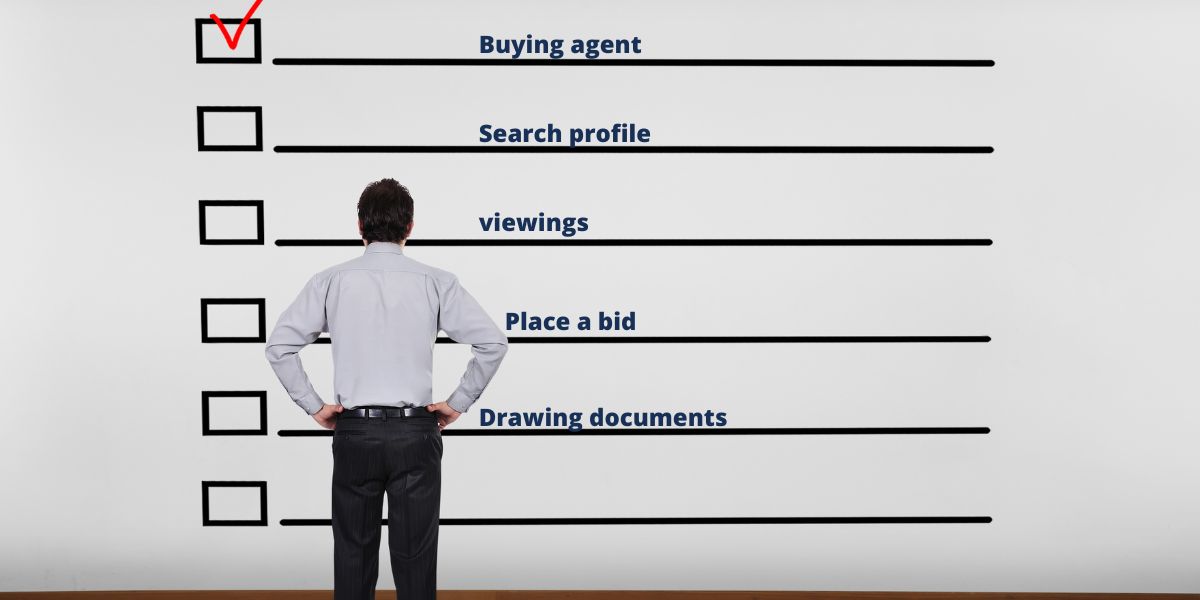 Are you looking for a new home, or do you already have your eye on a property? For the entire process of buying a house, using a real estate agent could be helpful. Since buying a house is a big investment and there are a lot of things coming your way, outsourcing tasks to a buying agent will help you feel more secure and ready to take this big step. What are the tasks of a real estate agent when buying a house? Below you can read everything you need to know about the tasks of a buying agent.
> Read more about finding a buying agent
The advantages of a buying agent
Using a buying agent has many advantages. The estate agent takes tasks off your hands and is an expert on buying houses in a specific area. Because the buying agent is not emotionally involved in the house, he or she can give an objective opinion and advise you on the amount of the offer you want to make. A buying agent is usually a certified valuer so he or she also understands building technology and appurtenances. Negotiating is a daily activity of the agent, and he or she is probably more skilful at it than yourself. In addition, the tasks of the buying agent also include helping you with various legal and administrative matters concerning the purchase. You can think about drawing up the purchase contract, but also about certain conditions under which you purchase.
> Read more about buying a house in The Netherlands. 
Tasks of a buying agent
The tasks of a buying agent can include all tasks in the process of buying a house from start to finish. From searching for a property to handing over the keys. But you can also choose to do part of it yourself. Maybe you enjoy looking for suitable houses, but prefer to leave the negotiations to your estate agent. You agree on the exact tasks of the buying agent beforehand. That way, you know what you can expect from each other.
Help with searching for a house
One of the primary tasks of a buying agent is to help you find a new house. Discuss your housing needs with the buying agent and let him or her search for you. The buying agent has many contacts within the real estate industry and is thus up to date about which houses will soon be on Funda. That knowledge gives you a head start. Moreover, it can yield surprising results (because your estate agent is looking at something you might not have thought of initially). The buying agent can also let you know that what you would like is not realistic and that you need to adjust your housing requirements.
House viewings
Another task of the buying agent is accompanying you to view a house. The agent will probably pay attention to different things than you would do yourself. Moreover, bringing a buying agent gives you an advantage not only for advice on the house itself but also when there are many interested parties for a house. The seller knows that you are a serious candidate if you want to visit the house with a buying agent.
Professional advice regarding various houses
You have found a house, but still have doubts about the development of the neighborhood, the best way to approach negotiations, whether the house is really the right house for you, or whether the deed of sale is correct. In other words, you could use some advice. An important task of a buying agent is to help you with your doubts and questions. With this expertise, you will be able to make the right decision.
Negotiating with selling party
If you find it exciting to negotiate for the first time or when you are not sure where to start, one of the tasks of a buying agent is to help you with the negotiation. Besides, buying a house involves a lot of emotion; after all, you want to become the owner. Meanwhile, you feel the pressure of the competition. A buying agent does not have this emotion and can enter a negotiation more objectively and can determine a good strategy with you to ensure that you do not pay more for the house than you had planned, than is financially feasible, or than it is worth. At best, the buying agent will buy the property for a better price than you would have managed on your own.
The entire buying process
Would you prefer to outsource the whole process? That is also possible. When buying a house, the real estate agent will help you with the search, the viewings and all the arrangements up until the key transfer. Each agency will work with different services around the purchase. The above are just some of the options that are negotiable in many cases.
Looking for a house without a buying agent, but so far without success? Wondering if hiring a buying agent is…
Read more
💡 Need help with finding a suitable buying agent?
We provide you with free help and advice for finding the best performing buying agents.