Looking for a house without a buying agent, but so far without success? Wondering if hiring a buying agent is still a wise decision and what advantages a buying agent has? You're not alone. In the current overheated housing market, it's quite a challenge for buyers to find something. But don't worry! We have listed the advantages of a buying agent for you.
Creating a search profile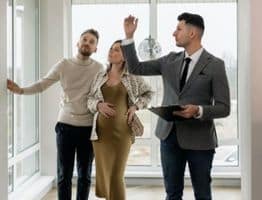 When you start working with a buying agent, it's customary to first create a search profile. This gives the agent an idea of what you're looking for. For example, do you want an apartment with your partner in the vibrant city centre, or do you prefer a single-family home outside the city?
Realistic advice
When setting the search criteria, people sometimes have an overly optimistic view of their options. They often forget that overbidding is almost unavoidable nowadays and don't know how much they should overbid. Agents provide targeted and realistic advice on what fits within the budget.
Early access thanks to a buying agent
Once you have created your search profile, the agent has a good understanding of what you're looking for, so you don't have to do it yourself. The agent will send you suitable properties before others have access to them. This usually gives you a few days' advantage over the rest. In this market, speed and prior knowledge are the keys to success, so this is very valuable.
Viewings and additional research
Buying agents can also accompany you on property viewings. They can assess the structural condition of the property as well as the surrounding area. For example, they can conduct additional research to check the zoning plan and see if there are any construction plans nearby.
People often fall in love with a property and become blind to possible flaws. A buying agent views houses daily and assesses the property in a businesslike manner.
Negotiations and determining a good offer
Negotiations and determining a good offer are likely the most crucial steps nowadays. Especially determining a good offer and establishing a maximum bidding price is of great importance. It's almost impossible to buy a house without overbidding these days. Therefore, you will have to offer more than the asking price. However, you don't want to overpay too much either. The expertise of a buying agent is indispensable in this process.
Brief inspection before the transfer
Since the agent may not always be present during a viewing due to busyness, they can always conduct a brief inspection before the keys are handed over. This way, you can be sure that there are no defects.
Reviewing the purchase agreement
In most cases, the drafting of the purchase agreement lies with the selling party. However, as a buyer, you want to make sure everything is in order. The agent has a lot of experience in this regard and can review the purchase agreement for you. Later in the process, the buying agent often assists you during the inspection and the deed of transfer.
The choice of a buying agent
Deciding to hire a buying agent or not remains challenging. If you search without a buying agent, you must be willing to invest a lot of time with a smaller chance of success with a buying agent, the process is faster, and you have a greater chance of success, but it does come with a fee.
| Advantages of a buying agent | Disadvantages of a buying agent |
| --- | --- |
| Early access to housing listings | Costs |
| Experience of the buying agent, daily practice | No direct contact with the selling party |
| Determining a good offer and negotiation | |
| Relief from administrative work | |
| Objective advice after property viewings | |
| Contacts and network | |
Looking for a house without a buying agent, but so far without success? Wondering if hiring a buying agent is…
Read more
💡 Need help with finding a suitable buying agent?
We provide you with free help and advice for finding the best performing buying agents.