When buying, renovating or refinancing a home, a valuation is an important and mandatory step in the Netherlands. The valuation report creates costs that are unavoidable. However, you can choose between several valuers in your area. In doing so, you can look for the cheapest valuer in the area. How do you go about finding this cheap valuation? This guide provides an overview to help you get the cheapest valuer near you.
> Read everything about costs from a property valuation
A cheap NWWI Valuation Report in The Netherlands
First of all, it is important to know what a validated valuation report is. After all, this is what all mortgage lenders and banks require when you submit a valuation report to them. This involves a NWWI valuation report. The Dutch Housing Value Institute (NWWI) guarantees objective and reliable home valuations through a uniform and validated valuation process. This report gives not only you, but also mortgage lenders certainty about the actual value of the home, rather than what was offered. A NWWI appraisal report must therefore meet certain requirements, all appraisers who meet these are allowed to set their own appraisal prices. So the price of such an appraisal report can vary enormously. At Juiste Makelaar, we always help with quotes for a NWWI valuation report.
> Find out what NWWI valuation report means in the Netherlands
How to find a cheap local appraiser?
Finding a cheap valuer is best done through several online ways in The Netherlands. This is because when you start calling local appraisers, they will often quote higher prices because you come to them directly as a consumer. Below we have some tips on how to find a cheap appraisal the fastest:
Online business directories: Many towns and regions have an online business directory that lists local appraisers. In this, you then have instant insight into which valuer is active in your hometown. The downside of this is that you don't know if this is the cheapest valuer in the region.
Search engine: Searching for 'cheapest appraiser in …' or 'low price valuation' can help you find the cheapest appraiser in the region. Do try to compare different valuers when doing so.
Comparison platforms: A website like Taxateuroffertes.nl will help you find cheap quotes from valuers in your area. They look at valuers' prices, region and ratings.
HuisAssist: At HuisAssist, we help people find a cheap appraiser for free and with no obligation. We do this by directly comparing valuer quotes in your area. You can immediately schedule an appointment with the appraiser.
Request multiple valuation quotes.
To find the best deal for a validated valuation, it is important to collect multiple quotes. This way, you can get a good understanding of:
Lowest cost for valuation report: Ge average cost of a NWWI valuation report is between €500 and €800. However, these prices vary greatly by region, as there are cheaper valuers operating in every region.
Details of the quotation: It is important to know what you are getting, and certainly what the valuation is for. When will there be extra costs and certain surcharges?
Maximum distance: Not just any appraiser can appraise your property anywhere in the Netherlands. Be well informed about this.
> Curious about aspects that influence the price of the property valuation? Read it here
Hallmarks and certifications for appraisals
Of course, you should work with an appraiser who does a good job. This is why there are certain quality certifications you should look out for.
Membership of trade associations: Membership with VBO, NVM or VastgoedPRO can indicate professionalism and reliability. However, these are trade organisations that are mainly focused on estate agents. Many estate agents are also appraisers, so it does indicate something however not everything about an appraiser.
NWWI recognition: For a valid NWWI valuation report, the appraiser must actually be recognised by the NWWI. This indicates that the appraiser meets the requirements of the NWWI and is a recognised valuation company.
Value of local property valuators
You will almost only find the best price online, especially as there are at least 120 appraisers in every town who are allowed to value your property. However, there are of course ways to find a local valuer yourself:
Ask for experiences: Family members, friends, colleagues or even neighbours can help you find an appraiser they have used before.
Social Media and Neighbourhood Apps: Local Facebook groups, neighbourhood apps like Nextdoor or community forums can be a source of authentic recommendations.
Request a comparison: Through HuisAssist, you can request a free comparison where we find the cheapest appraiser quotes. Based on previous experience, we can directly help you find the cheapest one in the area.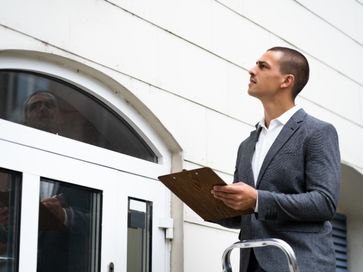 A valuation is required when buying a house in the Netherlands. As a buyer, it gives you a good indication…
Read more
💡 Need help with finding a suitable appraiser?
We provide you with free help and advice for finding the best and cheapest appraisers.