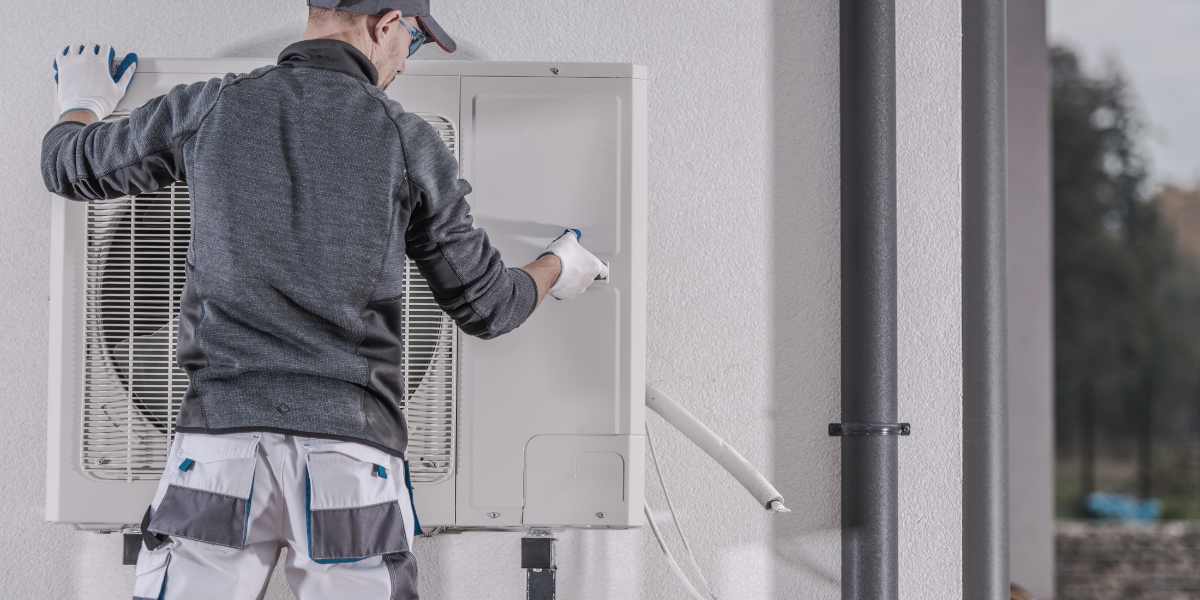 A hybrid heat pump you use together with the central heating boiler to heat the house. Such a pump is beneficial for the environment while you save money on energy bills. Read more about how a hybrid heat pump works, what it costs and the main points to consider.
> Read about the advantages of a heat pump
A sustainable solution
With a heat pump, you can heat your home in an environmentally friendly way. With a hybrid heat pump, you can heat your home for much of the year, but when it is cold outside (just above zero), you need a boiler to step in. And with the boiler, you also heat the tap water. Most hybrid heat pumps take heat from the outside air and use it to heat the water in the heating system. With the heat pump, you save about 50 to 70 per cent on your gas consumption.
How does a hybrid heat pump work?
A hybrid heat pump is a heat pump that works together with a regular gas central heating boiler and has an indoor and outdoor unit. The indoor unit is a box that will hang next to the central heating boiler. The outdoor unit of the pump is located in the outside air. There, energy is extracted from the outside air. The working part of the heat pump brings this energy to a higher temperature level so that the heat can be used in your central heating system.
The pump runs on electricity and provides much of the heat needed in the home. The central heating boiler runs on gas and is responsible for hot water in the kitchen and bathroom. In addition, the boiler jumps in if necessary on cold days, so there is always optimum heat in the house.
Heat pump with integrated boiler
Do you want to install a hybrid heat pump and is your central heating boiler also due for replacement? Then a pump with an integrated boiler may be a good choice. You will then only have one device hanging in your home. Because they are from the same manufacturer, you can be sure that the boiler and hybrid heat pump work well together.
Why a hybrid heat pump?
The Dutch government has stated that from 2050, all households must be climate-neutral. This means we need to start using only renewable sources of energy. Most households are currently still connected to natural gas, a fuel that emits CO2 when burned. By switching to only renewable sources, we reduce these CO2 emissions.
Completely moving away from natural gas requires a huge investment, not only in equipment but also, for example, in the rest of your heating system and insulation of your home. The hybrid heat pump is seen as a first step to reducing a home's gas consumption. The government encourages sustainable solutions such as a heat pump with the so-called Sustainable Energy Investment Subsidy (ISDE).
The costs of buying and installation
The table below provides an overview of the costs for a hybrid heat pump and other types of heat pumps. Keep in mind that these costs may vary depending on the installation costs and the brand of the pump. Read more about the costs of heat pumps. 
| Type of heat pump | Costs [€] |
| --- | --- |
| All-electric heat pump | € 4,000 – € 27,000 |
| Hybrid heat pump | € 7,000 – € 11,000 |
| Air-to-water heat pump | € 8,000 – € 12,000 |
| Water-to-water heat pump | € 13,000 – € 17,000 |
| Air-to-air heat pump | € 4,000 – € 8,000 |
| Ground-source heat pump | € 23,000 – € 27,000 |
Find the most suitable heat pump
A heat pump is an efficient solution for the heat regulation of your house. HuisAssist can help you find a certified party to prevent paying too much and provide you with advice and experience in installing heat pumps.